Page 1 Transcriptions
CHAPTER 260 : RUI'S RETURN WHAT WHAT ? IT'S JUST ... I'VE BEEN THINKING ABOUT THIS FOR A WHILE . I'M SORRY . THIS MUST SEEM STRANGE . WHAT ARE YOU SAYING , MOM ? THAT MAYBE ... IT WASN'T RIGHT TO SEPARATE YOU TWO . WHY NOW ?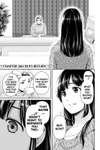 Page 2 Transcriptions
I CAN'T HELP BUT THINK ABOUT HOW NATSUO - KUN SAVED YOU FROM BEING ATTACKED ... YOU WERE TEACHER AND STUDENT BACK THEN . WE COULDN'T DO ANYTHING ABOUT YOU BEING TRANS FERRED ... ... AND HOW YOU'VE ALWAYS SUPPORTED HIM WITH HIS WRITING . ... BUT I FEEL LIKE MAYBE AT LEAST WE SHOULD'VE ACCEPTED YOU . AFTER ALL , YOU'RE ONLY STEP SIBLINGS . YOU'RE ALLOWED TO GET MARRIED . IT'S OKAY . NATSUO'S ALREADY GONE AND STARTED A NEW LIFE . IT WAS COMPLICATED ! IT IS COMPLICATED ! IT'S BUT OKAY ! COME ON , MOM ! DON'T OPEN UP OLD WOUNDS ! THERE'S NO NEED TO WORRY ABOUT EVERYTHING SO MUCH . IT'S ALREADY OVER BETWEEN US .