Page 1 Transcriptions
CHAPTER 221 : A NIGHT TOGETHER ELEHT - = - = HONESTLY WHERE THE HELL DO YOU GET OFF OH , I'M SORRY IT WASN'T ENOUGH LIKE A ROMANTIC COMEDY FOR YOU ! YOU'RE THE ONE WHO'S BEEN WHINING " I WANT A GIRLFRIEND ! " YEAH , BUVUT W & BAR EVEN AFTER THAT AT THE KARAOKE ... IT'S OBVIOUS SHE'S ONLY LOOKING FOR A SUGAR DADDY ! IT WAS ALL " SO ARE YOUR FAMILY WELL - OFF ? " " WHAT'S YOUR TARGET SALARY ? " MONEY , MONEY , MONEY !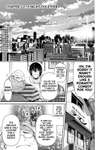 Page 2 Transcriptions
COUPLE AND YET IT LOOKS LIKE THINGS WENT GREAT FOR THE FRIEND I BROUGHT ALONG ! " OH , THANK YOU SO MUCH KURIMOTO ! IT'S ALL THANKS TO YOU THAT I GOT A GIRLFRIEND ! " GIMME A BREAK ! IT DID SEEM LIKE THEY HIT IT OFF , HUH ... I HAVEN'T DONE ANYTHING WITH HER ! you I STILL BETTER LIVE WITH NOT USE MY DAMN HER AND PARENTS ! THEN TOSS HER ASIDE ! GAHHH GOD DAMN IT ! DO YOU REALLY THINK I CAN FORGET ABOUT RUI THAT FAST ?! YOU'RE WELCOME TO TAKE HER OFF MY HANDS , YOU KNOW ... IF I WERE you , I'D BE DOING IT WITH MISAKI - SAN RIGHT NOW ! MAYBE IF I GO GETTING INTO TROUBLE , I'LL GET TO GO STAY AT NATSUO - CHAN'S PLACE TOO ! ♡ SHE JUST SEEMS TO BE ... SO HAVING SHE'S SOME STAYING TROUBLE WITH RIGHT ME . NOW ... THAT'S ONE WAY TO PUT IT . POPULAR WITH THE LADIES AGAIN , NATSUO CHAN ? HEE HEE ! COULD YOU BE ANY LESS FUNNY ? LAVI IT'S MORE OF A PAIN IN THE ASS THAN ANYTHING . OH ?