Page 1 Transcriptions
CHAPTER 239 : KAJITA'S GOAL ON TOP OF NEGOTIATING WITH THE HOTEL WHERE WE'RE OPENING THE NEW RESTAURANT SO LONG AS THE WINNER'S OKAY WITH IT , WE COULD EVEN USE THE WINNING MEAL AS - IS ! WHAT IF NONE OF US WINS ? WELL I HAVE CONFIDENCE IN ALL OF YOU , ANYWAY . ... IN THAT CASE , I'D ASK PEOPLE TO APPLY . MMM ... I'D RATHER NOT DWELL ON PLAN B BUT ... ... WE REALLY NEED TO START FINALIZING OUR MENU BEFORE WINTER . WITH ALL YOU'VE LEARNED HERE , WE CAN AT LEAST USE YOUR OPINION AS A REFERENCE I'D LIKE TO ADD SOME MEAL IDEAS FROM YOU TRAINEES .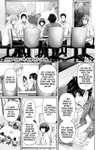 Page 2 Transcriptions
I'M GETTING MORE AND MORE FIRED UP ! GUESS IT'S TIME TO REALLY KNUCKLE DOWN STIL I'M A REAL CHEF ! HMM ... IT'S NOT LIKE I DON'T ... BUT IT WOULD LIKE IT HERE ... BE NICE TO BE WITH MY FAMILY . YOU MUST WANT TO GO BACK , RIGHT ? TO JAPAN BUT I WANNA BE ABLE I'M SO TO MAKE PUMPED A TRIUM TO REALLY PHANT SHOW RETURN ! WHAT I CAN DO ! THIS CONTEST IS THE BIGGEST TEST OF OUR SKILLS SO FAR , RIGHT ? ... DON'T GO THINKING I'M ONLY DOING THIS ' CAUSE I WANT TO GO HOME ! NAH , THAT'LL BE ME . I GUESS THAT REALLY MAKES US RIVALS NOW , HUH ? I WANT TO ACHIEVE SOMETHING BIG BEFORE I GO HOME . SINCE I'M GONNA WIN ' N ALL .