Page 1 Transcriptions
WHO THE HELL WOULD LIKE YOU ?! CHAPTER 124 : SPREAD YOUR WINGS ! OR THE TIME YOU STARTED BAWLING BECAUSE YOU COULDN'T BEAT ME AT VIDEO GAMES , DO YOU REMEMBER THE TIME YOU POOPED YOUR PANTS AT MY HOUSE WHEN WE WERE LITTLE ?! HOW SELF ABSORBED DO YOU HAVE TO BE TO SAY SHIT LIKE , " PFF . NO WAY , WHEN I DIDN'T EVEN CONFESS TO YOU ?! THEN BROKE A GLASS AFTER WAVING A CONTROLLER AROUND AND TRIED TO BLAME IT ON ME ?!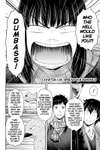 Page 2 Transcriptions
I THOUGHT WE WERE FRIENDS BUT YOU LET ME DOWN , GENTA ! WHO THE HELL WOULD SEE YOU AS A GUY AFTER ALL THAT ?! I'M THE ONE WHO SHOULD BE CREEPED OUT ! YOU BIG LOSER ! / \ FL AP ' HUF ARISU SHUM A 000 THIS IS WHAT ... ... I WANTED TO SAY BACK THEN .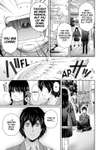 Page 3 Transcriptions
BUT SOMETHING HIT ME WHEN YOU PUNCHED GENTA YESTER DAY . I WAS HURT BY WHAT GENTA SAID ... ... BECAUSE I ACCEPTED IT AS TRUE . LU 1 I SAW BECAUSE IT WAS EASIER THAT WAY . I USED GETTING HURT AS AN EXCUSE TO STOP TRYING , AND JUST SHUT EVERY ONE OUT . ... THAT I'D BEEN TRYING TO BLAME ALL OF MY PROBLEMS ON HIM . D THERE WAS NO REASON IN THE END , I WAS THE ONLY ONE WHO WAS HUNG - UP ON MY LOOKS . IT'S SO STUPID . YOUR LOOKS DON'T MATTER ! TO LET WHAT ANYONE SAID GET TO ME . I WON'T LET OTHER PEOPLE'S VALUES CONTROL ME ANY MORE .