Page 1 Transcriptions
DOMI LLIU LLLL X GIRL wwww Minimale 111 www nilililil UHH . I'LL ANNOUNCE THE AUDITION RESULTS NOW . ALL RIGHT , THEN . AND PLAYING THE CO - STAR , MATILDA , THE CLUB'S TOP DANCER THE PROPRI ETRESS , CATHERINE , FIRST FOR UP , OUR LEAD EDDIE THE DETECTIVE , THIRD YEAR , SHINICHI OGINUMA . ANNA YUZURI . Relax GULD DKÉAMY TARADISE YES ! YES !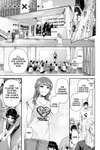 Page 2 Transcriptions
NENE KUZU OKA . I'M SORRY YOU DIDN'T GET THE ROLE . YOSHI NO SEMPAI TH ... MANAGED TO PULL IT OFF SO WELL ! I COULDN'T BELIEVE SOMEONE LIKE YOU , WHO DIDN'T HAVE A SINGLE OUNCE OF SEX APPEAL IN YOUR WHOLE BODY ... BUT I WAS REALLY BLOWN AWAY BY YOUR AUDITION ! THANKS I'M GOING TO DO EVERYTHING I CAN TO PLAY THE ROLE I'VE BEEN GIVEN ... I MIGHT HAVE ONLY GOTTEN A SIDE PART THIS TIME ... TO THE BEST OF MY ABILITY ! ... BUT I'M NOT BUMMED ABOUT IT .