Page 2 Transcriptions
SO I KNOW I PROMISED I WOULDN'T DO ANYTHING TO HURT YOU ... I PROMISED I'D BE NOTHING MORE THAN A SISTER TO HIM ... BUT ... I CAN'T I'M KEEP THAT SORRY PROMISE ANY MORE . I COULDN'T TELL YOU SOMETHING LIKE THIS OVER THE PHONE . I SEE I HAD TO TELL YOU FACE TO FACE .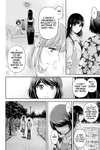 Page 3 Transcriptions
s I GUESS ... HEM ... YOU JUST COULDN'T FORGET ABOUT HIM , RIGHT ? NO , YOU I GET REALLY IT . TRIED TO FORGET ABOUT HIM , RIGHT ? BUT YOU JUST CAN'T . DO YOU ALWAYS TRAVEL ACROSS THE OCEAN FOR STUFF LIKE THIS ? ANYWAY , YOU SURE DON'T DO THINGS BY HALVES , DO YA ? love di omor S ... SORRY FOR JUST SHOWING U YOU WERE JUST IGNORING WHAT YOUR HEART WAS TRYING TO TELL YOU , RIGHT ?