Page 1 Transcriptions
CHAPTER 163 : TO A NEW SELF A BUT THERE THE PLOT DOESN'T MOVE ENOUGH AND THE CHAR ACTERS AREN'T VERY DIS TINCTIVE . YOUR STORIES START OUT CATCHY AND INTRIGU ING , AVER AGE ? AS A RESULT , I COULD MORE OR LESS SEE WHERE THE STORY IS GOING . 19 ALL IN ALL , I FELT THAT THEY WERE AVERAGE STORIES ABOUT AVERAGE PEOPLE . " YES .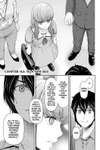 Page 2 Transcriptions
SHE'S NOT THE MOST TACTFUL GIRL . SORRY , FUJII - KUN . SHE CAN BE A LITTLE BLUNT SOMETIMES . HONESTLY , I DON'T SEE THE VALUE IN MAKING A BOOK OUT OF NOW NOW ! EVERYONE HAS THEIR OWN STYLE AND PREF ERENCES ! WELL , WE WON'T TAKE UP ANY MORE OF YOUR TIME ! WHAT WAS THAT ABOUT ? TH THAT KINDA TOOK ME BY SUR PRISE . НА , HA . ME 1 FEEL ING SORE ?