Page 1 Transcriptions
A TASTE DISOR DER ? WEST 18 : 9 CHAPTER 251 : YOUR THOUGHTS I KNEW I HAD TO GET STRONGER NOW I UNDER STAND HOW YOU MUST HAVE FELT WHEN YOU STOPPED BEING ABLE TO WRITE . IT'S LIKE THE STRESS HAS MOVED FROM YOUR MIND TO YOUR BODY , HUH ... ... ... ... AND I THOUGHT I WAS DOING WELL , EVEN IF IT HURT . I'M GRAD UALLY FEELING MORE AND MORE ANXIOUS AND IMPATIENT . MAYBE I SHOULD JUST FIND SOMETHING ELSE , LIKE YOU DID . LIKE MY FUTURE'S DISAP PEARING BEFORE MY EYES .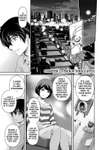 Page 2 Transcriptions
RIGHT NOW , YOU SHOULD JUST GET SOME REST . ISN'T IT A LITTLE TOO EARLY TO BE THINKING ABOUT THAT ? -GRIP DEDICATE YOURSELF TO FEELING BETTER . THEN YOU CAN WORRY ABOUT LOOKING FOR SOME THING ELSE . YOU'VE GOTTA TRY EVERY THING YOU CAN BEFORE YOU RESORT TO THAT . 4 MAZDI I THINK IT'S BEST TO TRY NOT TO THINK ABOUT IT , BUT IF THAT'S TOO HARD ... ... YOU CAN ALWAYS TALK TO ME ABOUT ANYTHING . IF YOU'RE FEELING DOWN , JUST TALKING TO SOMEONE CAN MAKE IT BETTER . I WISH I'D TOLD YOU THE SAME THING .