Page 1 Transcriptions
I CALLED BUT I WAS TOLD THEN LET'S START THERE . NO . HAVE YOU GONE TO HER HOUSE YET ? SHE WASN'T HOME . THIS IS IT . IT DOOM IT'S HUGE ! 11 0 acT CHAPTER 167 : STILL , I ... SOUNDS PRETTY RICH TO ME ! BUT HER DAD'S THE CEO OF A LISTED COMPANY I DON'T KNOW ABOUT RICH , ... IS KUSANAGI A RICH GIRL OR SOME THING ?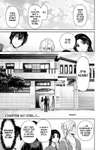 Page 2 Transcriptions
EXCUSE ME . MAY I ASK WHY YOU'RE ALL STANDING OUTSIDE MY HOUSE ? AND WHEN I ASKED WHERE SHE WENT , SHE SAID SHE WAS TOLD NOT TO TELL ANYONE . I SPOKE TO THE MAID ON THE PHONE , BUT SHE SAID YUKA WASN'T HOME . THE MAID VISUR . #riscul IF ONLY WE COULD GET IN TOUCH WITH HER DIRECTLY THEN IT'S POSSIBLE YUKA'S JUST PRETENDING NOT TO BE HOME . * CAN I HELP YOU ? # GOOD , THANKS . LONG TIME NO SEE ! MRS . KUSA NAGI ! HAVE you LOST WEIGHT ? SQUEE OH , DEAR ! THANK YOU SO MUCH FOR TAKING SUCH GOOD CARE OF MY YUKA ! AND YOU ARE ? OH , MY ! MIYABI CHAN ?! OH IT'S NICE TO MEET YOU . WE'RE FROM THE DRAMA CLUB .