Page 1 Transcriptions
CHAPTER 127 : PROOF OF LOVE HEY ! WHERE ARE YOU IN A HURRY TO ? WHAT WAS THAT NOTE ON THE COUNTER ALL ABOUT ? WHERE ARE YOU GOING ?! SHIP I'M GOING HOME . WHY WOULD YOU LEAVE WITHOUT SAYING ANY THING ?! te WHY ? !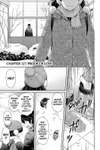 Page 2 Transcriptions
NEE HUH WHAT ? ! THE HELL ARE YOU TALKING ABOUT ?! 16 THE NEEDY GIRL'S GOING TO GET LOST , SO YOU CAN JUST ENJOY THE REST OF THE TRIP BY YOURSELF . TWITCH I OVER HEARD YOU GUYS TALKING IN THE YARD . WAIT I SET IT STRAIGHT WITH HIM AFTER WARD , HE WAS JUST TEASING ME ! THERE'S NO REASON TO GET SO UPSET . TOO , HE ASKED YOU IF IT'S GOING TO BE HARD TO GO OUT WITH SUCH A NEEDY GIRL . AND ALL YOU SAID WAS , " YOU THINK SO ? " SO ... WHOA , WHOA , WHOA .