Page 1 Transcriptions
CHAPTER 223 : THE UNFULFILLED HEART BRO SORRY FER CALLIN ' YOU OUT HERE . YOU DON'T HAVE TO PERFORM LIKE THAT . EVERY THIN ' STILL THE SAME WITH YOU ? AH ! IS EVERY ONE WELL ? YEAH . WE'RE GETTING BY . OH YEAH ? M9 BAD ! THE MEIDAI NEIGHBOR HOOD ... AROUND SHIBUYA WHAT'S GOING WAY ... ON THERE RIGHT NOW ? SOME THING'S BEEN BOTHERING ME A LITTLE ...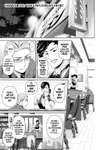 Page 2 Transcriptions
YOU HAVING SOME TROUBLE I'VE HEARD SOME GROUP OF GANGSTERS HAVE TAKEN OVER THAT AREA . THEY'RE NOT YAKUZA . IT'S THIS KID I KNOW . SEEMS TO BE HAPPENING EVERY WHERE LATELY . I DON'T KNOW MUCH , THOUGH . BACK IN THE DAY , THAT WHOLE REGION WOULD'VE BEEN KODAN FAMILY TERRITORY , BUT ... THE KODAN FAMILY YEAH . PLEASE DO . EVER SINCE THE NEW BOSS TOOK OVER , I HEAR WE VE BEEN THINKING ABOUT HOW TO DEAL WITH THAT AREA . IF IT'S A PROBLEM , WHY DON'T I HAVE MY GUYS TAKE A LITTLE SNIFF AROUND ?