Page 1 Transcriptions
CHAPTER 1863 I'M BEGGING YOU ... so , WE JUST NEED HIS SEAL * WHERE'S NATSUO KUN'S INSUR ANCE THEN IT'S BACK AT THE HOSPITAL . CARD ? AND ... I THINK HE KEEPS IT IN HIS WALLET . A PERSONAL STAMP USED FOR OFFICIAL DOCUMENTS IN PLACE OF A SIGNATURE , JUN CHAN IFI LOSE NATSUO , TOO , LOSING YOU WAS ALREADY TOO MUCH TO BEAR . I ... I WON'T KNOW ... WHAT TO DO WITH MYSELF ANYMORE .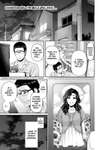 Page 2 Transcriptions
Param !!!! WHY DON'T YOU TWO TAKE A BREAK ? WE'LL KEEP AN EYE ON HIM . THE POLICE MIGHT WANT YOU FOR MORE QUES TIONING HINA . THEN AT LEAST CALL WORK AND LET THEM KNOW YOU'RE HERE . YOU CAN'T GO TO WORK LIKE THIS , RIGHT ? ...