Page 1 Transcriptions
LET'S TELL HINA NEE ... ... ABOUT US . CHAPTER 1478FOR THE FUTURE TO BE HONEST , I THOUGHT ABOUT TELLING HER . BUT YOU'RE THE ONE LIVING WITH HER , THAT NIGHT SO I WANTED TO GET YOUR PERMISSION BEFORE I SAID ANY THING .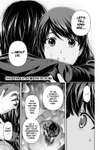 Page 2 Transcriptions
BUT IF SHE DID I DON'T KNOW IF HINA - NEE REALLY MEANT ... THEN I THINK WE'LL ONLY HURT EACH OTHER MORE IF WE KEEP BOTTLING EVERYTHING UP . EVERY THING SHE SAID WHEN SHE WAS DRUNK . MEMPEN ... THAT I FELL IN LOVE WITH YOU , AND THAT I WAS THE ONE WHO CONFESSED . I WANT TO BE HONEST AND TELL HINA - NEE ... THAT WAY SO YOU WON'T HAVE TO WORRY ABOUT ME HAVING A CHANGE OF HEART RIGHT ? st "