Page 1 Transcriptions
RETTE CHAPTER 192 : THE STATE OF LOVE No , NO No ? YOU'RE OPENING ANOTHER BRANCH OVERSEAS ? ! HUH ? I'M NOT READY FOR THAT KINDA RISK YET ! ACTU ALLY , Tv FAILURE FIGURES ... YOU'VE ALREADY HAD A ZHERE STORE GO UNDER TIN JAPAN . BEFORE . TOO I GOT AN OFFER FROM THE COLTON TOKYO .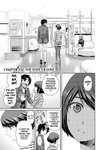 Page 2 Transcriptions
APPARENTLY , ONE OF THE HOTEL'S RESTAURANT CONSULTANTS HAS BEEN COMING IN REGULARLY SINCE SUMMER . I ASKED MYSELF THE SAME THING ! WHAT ... ? THE COLTON TOKYO ?! THAT SUPER RITZY HOTEL ? WHY US ?! I GUESS HE HEARD OUR VICHYSSOISE AND SUMMER PASTA WERE GOOD AND DECIDED TO CHECK US OUT ... " WHAT DO THEY WANT WITH A TINY JOINT LIKE OURS ?! " OH ... SO , WHY THE OVERSEAS TRAINING ? I DIDN'T HEH EXPECT IT HEH . TO PAY OFF LIKE THIS , THOUGH . THAT'S GREAT ! SOUNDS LIKE BEING PARTICULAR ABOUT FLAVOR PAID OFF . IN NEW YORK ? МУ BUSINESS TRIP WAS ALL TO PREPARE FOR THAT TRANSI TION . FROM WHAT THE CON SULTANT TOLD ME , OLM THE IDEA WOULD BE TO SHOOT FOR A MORE HIGH - GRADE , SOPHISTICATED RESTAURANT THAN THE CASUAL OPERATION WE RUN NOW . CLASSY HOTELS WANT THEIR ON - SITE RESTAURANT'S SERVICE TO HAVE A CERTAIN LEVEL OF REFINEMENT . YUP .