Page 2 Transcriptions
IT SEEMS ... HIS DIVORCE WILL BE FINALIZED SOON . WELL , NOT LIKE IT'S OF ANY INTEREST TO YOU , ANYMORE . APPARENTLY , THE DRAWN - OUT MEDIATIONS HAVE FINALLY BEEN SETTLED . I ... ... SEE .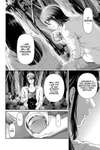 Page 3 Transcriptions
DIDN'T THINK ... HE HAD ANY INTENTION OF GETTING DIVORCED . RE SEARCH ING AT THE UNIVER SITY HAD ALWAYS BEEN HIS DREAM , I'M NOT SURE IF HE TOLD YOU ... 73 SO WHEN THE DAUGHTER OF A PROFESSOR HE FELT INDEBTED TO PROPOSED TO HIM , HE COULDN'T JUST TURN HER DOWN . HOWEVER , ONCE THEY STARTED LIVING TOGETHER HER SELF ISHNESS AND CONTROLLING NATURE MADE THEM CON STANTLY BUTT HEADS . IT SEEMED TO DRAIN THE LIFE OUT OF HIM . ... BUT IT SEEMS HIS MARRIAGE WAS ANY THING BUT A HAPPY ONE .