Page 1 Transcriptions
CHAPTER 188 : SIGNS OF LIFE 7:12 College Student Stabbed by Stalker Regains Consciousness Three Days After Incident # WE'VE RECEIVED WORD THAT THE VICTIM HAS REGAINED CONSCIOUS NESS Aoba General Hospital AND IS CURRENTLY IN STABLE CONDITION WE HAVE AN UPDATE REGARDING THE INNER - CITY COLLEGE STUDENT WHOSE LIFE WAS LEFT HANGING IN THE BALANCE AFTER A RECENT STABBING . MALE COLLEGE STUDENT x Regained consciousness at the hospital last night I NEVER THOUGHT I'D MAKE THE NEWS LIKE THIS . HIS FAMILY MUST BE SO RELIEVED THAT'S GREAT NEWS . I HAVEN'T EVEN MADE MY BOOK A DEBUT YET . THE CULPRIT IS FORTU NATELY IN CUSTODY , IT MAY BUT THIS TAKE MUST HAVE SOME TIME ALL COME TO PICK AS QUITE A UP THE SHOCK TO PIECES ... THEM .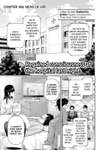 Page 2 Transcriptions
DON'T EVEN TALK LIKE THAT ! IE..IF THE UNSPEAKABLE HAD HAPPENED , I FELT THE ONLY WAY I COULD POSSIBLY MAKE UP FOR IT WOULD BE TO FOLLOW YOU ... I CAN'T TELL YOU HOW GLAD I AM TO HEAR YOUR VOICE AGAIN , NATSUO - KUN ! AT LEAST YOUR NAME'S NOT OUT THERE . OH , THANK GOD ! YIKES ! GOOD THING I CAME BACK OH , , YEAH . WHILE I WAS OUT ... ... I THINK I DON'T REALLY REMEMBER WHAT WE TALKED ABOUT THOUGH ... . ... MOM SHOWED UP IN MY DREAMS .