Page 1 Transcriptions
I'M ... ..GONNA FINISH THIS . I'M GONNA FINISH SENSEI'S WORK . CHAPTER 256 : SENSEI WOULD REGARD LESS ... WHAT'S THE THEME OF YOUR NEXT WORK ? I'M NOT WORRIED ABOUT IF I CAN WRITE OR NOT . ... OF HOW I FEEL ... SHF THERE'S NO CHOICE . ... I CAN'T LET THE FEELINGS TOGEN SENSEI PUT INTO THESE WORDS ... WHAT CONNECTS US . I HAVE TO FINISH IT . 2 ... JUST GO TO WASTE .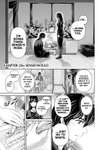 Page 2 Transcriptions
YOU CAN I KNOW DO YOU CAN , IT . NATSUO KUN . ID OF COURSE I'M NOT I COM- OPPOSED ! PLETELY SUPPORT YOU !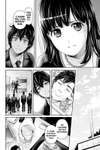 Page 3 Transcriptions
BUT IF YOU THINK YOU'RE UP TO IT , I'M ROOTING FOR YOU , TOO . I'M SURE LOTS OF PEOPLE WILL WANT TO READ IT . I'M SURE THAT'S WHY HE ENTRUSTED HIS MANUSCRIPTS TO YOU TO BEGIN WITH . HE TOOK YOU ON THAT TRIP . I THINK HE WANTED YOU TO TAKE OVER FOR HIM . HE JUST DIDN'T WANT TO PUSH YOU INTO ANYTHING , SINCE YOU'D GIVEN UP WRITING . A & A 70 NATSUO KUN ...