Page 1 Transcriptions
CHAPTER 25 : THE FIRST DAY OF CAMPING ! IT'S HUUUGE ! GRAB ALL til OH ! THEY HAVE A JUNGLE GYM ! HOLD IT . 8000.c. PITCHING THE TENTS COMES FIRST . THE MOUN TAIN AIR IS SO FRESH . YOU CAN PLAY LATER .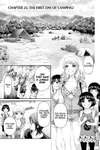 Page 2 Transcriptions
HUH ... AND FUJII - KUN AND ME IN THE GROUPS ARE AS FOLLOWS . I'VE RESERVED THREE TENTS . THE LAST . THE ASHIHARA SISTERS AND KASHI WABARA - KUN IN ONE , ОН , , RIGHT DID YOU PLAN TO SLEEP WITH THE ) GIRLS WHAT ELSE DID YOU EX PECT THE TACHIBANA SISTERS IN ANOTHER CAN YOU PLEASE NOT CASUALLY SAY THINGS THAT MIGHT BE TAKEN THE WRONG WAY ? DON'T WORRY , I WON'T BE TOO ROUGH WITH YOU . HOW'S IT COM ING ? OH , FINE ! I SHOULD BE DONE SOON .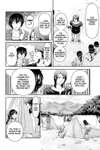 Page 3 Transcriptions
SOMETHING ON YOUR MIND ABOUT HINA - NEE ? ER HUH ? ! ... NO IT LOOKED LIKE YOU WERE STARING AT HER . I ... LATE LY ... WHAT DO YOU MEAN ? ... I'VE BEEN WONDERING IF IT WAS REALLY A GOOD IDEA TO MAKE SENSEI BREAK UP