Page 1 Transcriptions
WHAT IS HE DOING HERE ?! THOSE IMPERIAL FAMILIES INCLUDING THE MONARCH SECT COME HERE SPECIALLY FOR ZHUO FAN . IT'S SUCH ROTTEN LUCK TO MEET THIS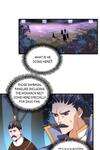 Page 2 Transcriptions
IT'S SUCH ROTTEN LUCK TO MEET THIS DEVIL HERE ! ZHUO ... ZHUO FAN , FOR THE SAKE OF THE FACT THAT WE BOTH WORKED FOR THE LUO FAMILY ONCE , I'D GIVE YOU A PIECE OF SINCERE ADVICE . JUST GET OUT HERE AS SOON AS POSSIBLE .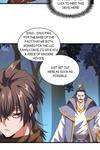 Page 3 Transcriptions
OTHERWISE , AFTER THOSE HONORARY PATRIARCHS BREAK THE FORMATION AND GET HERE , THERE'S NO WAY YOU CAN ESCAPE ! OH , PATRIARCH CAI , I DIDN'T EXPECT YOU STILL CARED ABOUT ME , THE BUTLER OF THE LUO FAMILY SO MUCH AFTER YOU DEFECTED FROM THE LUO FAMILY .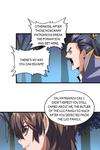 Page 4 Transcriptions
HEHEHE , I'M REALLY MOVED ! ALAS , ZHUO FAN , YOU'RE THE ONLY REASON THE LUO FAMILY HAS TO SUFFER ALL THIS , SO WHY DID YOU HAVE TO COME BACK ? YOU'VE GOT VERY EXCELLENT TALENT , AND THAT'S WHY I ADVISE YOU TO LEAVE .
Page 5 Transcriptions
DON'T WASTE YOUR LIFE ! ... IF ONLY THIS COULD MAKE HIM LEAVE . PLEASE ! I DON'T WANT ANYTHING ELSE TO GO WRONG ! FATHER , HE'S ONLY AT LEVEL 5 OF BONE - FORGING REALM !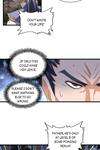 Page 6 Transcriptions
IF YOU AND MR . SUN COMBINE AGAINST HIM , YOU'RE SURE TO OVERPOWER HIM ! SO WHAT ARE YOU WAITING FOR ? LET'S TAKE HIS HEAD TO TAKE CREDIT BEFORE THE SEVEN IMPERIAL FAMILIES !