Page 1 Transcriptions
DAMN THE MONARCH SECT ! THEY'RE USING US AS CANNON FODDER ! SMACK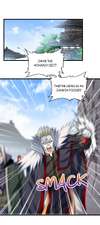 Page 2 Transcriptions
YEAH , THE FENGLIN CITY IS THE FORBIDDEN PLACE SET BY THE ROYAL FAMILY TWO YEARS AGO . DARN ! THE MONARCH SECT WANTS TO TEST THE ROYAL FAMILY'S LIMITS , BUT THEY DARE NOT DO IT THEMSELVES , SO THEY JUST MAKE US DO SUCH A DANGEROUS THING !

Page 3 Transcriptions
HOWEVER ... IF WE REFUSE TO DO IT , WE'LL OFFEND THE MONARCH SECT . BUT IF WE TAKE ON THIS JOB , WE'RE VERY LIKELY TO INCUR THE REVENGE OF THE ROYAL FAMILY . BOTH WAYS WILL EQUALLY LEAD TO A MISERABLE END FOR US . WHAT SHOULD WE DO NOW ?