Page 1 Transcriptions
THE DEVIL BUTLER CREATOR : YEXIAO / HONGSHU + WUER COMIC PRODUCED BY : KUAIKAN COMICS TRANSLATED BY : LAN - BRIDGE GROUP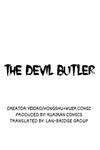 Page 2 Transcriptions
THE MEETING HALL OF THE HEADQUARTERS OF THE FLOWER RAIN TOWER MR . LIN , WHY DO YOU KEEP STARING AT ME ? THE LEADER OF THE PEONY TOWER HEAVEN
Page 3 Transcriptions
200 IS THERE ( SOMETHING DIRTY ON ME ?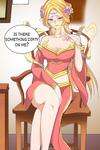 Page 4 Transcriptions
AHEM ... I'M SORRY . I'M JUST WONDERING , WHY IT ISN'T THE CHIEF LEADER THAT'S GREETING US ?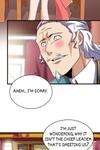 Page 5 Transcriptions
PL IS IT BECAUSE I'M NOT DOING A GOOD JOB THAT YOU WANT THE CHIEF LEADER TO RECEIVE YOU ? Solo.cool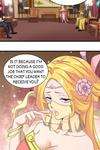 Page 6 Transcriptions
I DON'T MEAN THAT . YOU ARE DOING A GOOD JOB . HAHAHA ... HEY ! I AM HERE FOR THE ELIXIR FESTIVAL ! I DON'T WANT TO WATCH YOU TWO FLIRTING !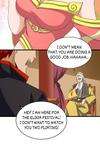 Page 7 Transcriptions
IF YOU'RE NOT HOLDING THE ELIXIR FESTIVAL , I'M LEAVING ! I HAVE SOMETHING ELSE TO DO !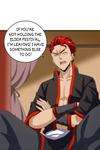 Page 8 Transcriptions
DON'T THROW A TANTRUM AT ME . Ooo