Page 1 Transcriptions

Page 2 Transcriptions
I HAVE A GIFT FOR YOU . A GIFT ?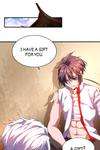 Page 3 Transcriptions
A GIFT ? ZHU FAN , IT'S NOT I'M LOOKING DOWN ON YOU . BUT GIVEN THE CURRENT SITUATION OF LUO FAMILY , WHAT KIND OF GIFT CAN YOU OFFER ? OR ... DO YOU HAVE ANOTHER ANCIENT FORMATION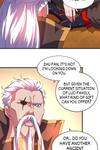 Page 4 Transcriptions
ANCIENT FORMATION CHART ? DON'T BE RIDICULOUS . AN ANCIENT FORMATION CHART IS WORTH AT LEAST TEN MILLION . AND YOU EXPECT ME TO GIVE IT TO YOU ?