Page 1 Transcriptions
MY NAME Mask PAR DON MY INTRU SION . IS ERIKAI SHIBASAKI , AND I'MITHE PRESIDENT OF THE TEA CEREMONY CLUB MAY I ASK YOU TO KEEP THE NOISE DOWN , PLEASE ? NOW , NOW . YOU AGAIN ? I WILL COME AS MANY TIMES AS I NEED UNTIL TO ... YOU AMEND YOUR WAYS . > GIVE IT A REST ALREADY . s THIS IS OUR LAST YEAR IN HIGH SCHOOL . A - AS AM I ! WE'RE BUSY PRAC TICING FOR THE SCHOOL FESTIVAL THE LAST SCHOOL FESTIVAL OF HIGH SCHOOL ... 5 I WANT PLAY / SONGS ON GUITAR LIKE SEVEN . NATION ARMY . " SMELLS LIKE TEEN SPIRITU . " I BET YOU LOOK GOOD ON THE DANCE FLOOR , AND SO ON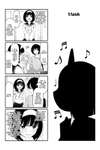 Page 2 Transcriptions
A I ACTUALLY LOVE ROCK MUSIC ... BUT THE LIGHT MUSIC CLUB IS MADE UP ENTIRELY OF BOYS . PERFECT ... UHH . PLEASED TO MEET YOU . WHAT SORT OF MUSIC DO YOU LISTEN TO , ERIKA ? I ONLY JOINED THE TEA CEREMONY CLUB BECAUSE MY FRIEND IS A MEMBER ! I'D LIKE TO JOIN THE CLUB . B BACH , MOST LY . BUT FOR MY LAST MEMORY OF HIGH SCHOOL ... SHIBA SAKI ... I WANT TC PERFORM ... ARE YOU FEELIN ' OKAY ? HEART OUT AT THE SCHOOL FESTIVAL ! BUT I CAN'T JUST ASK THEM TO LET ME JOIN NOW . !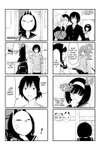 Page 3 Transcriptions
vu WHAT EVER DO YOU MEAN ? YOU BRUTE ! MUSICIANS SHOULD SPEAK THROUGH MUSIC ! YOUR VOICE GIVES You AWAY . YOU LITTLE I'M JUST A WAN GAN DERING IT . SOUL LOOKING TO JOIN . HO HO HO HO NOW , NOW , UBU KATA . WHY DON'T WE LET HER SHOW US WHAT SHE'S GOT ? SHIBA SAKI - SAN IS THE PRESI DENT OF THE TEA CERE MONY CLUB WHY SHOULD WE ? AND WHO'RE YOU SUP POSED TO BE ? COULD SUCH A PERSON REALLY PLAY GUITAR ? YOU WANT MORE MEM BERS ? HO HO HO Ott , My ... HO PLEASE ARE YOU SCARED OF ME ? CALL ME MISS WABI SABI . மமமம Y / 2 നനനന .