Page 1 Transcriptions
... So you're actually here... Oh, yeah. I heard you talking about your other identity. So it is true that you don't know. In reality, we're the sages of the mortal law. Why did you need to create Qianji Pavilion? Do you mind clarifying it? Hee hee. My great Sanzhen had many enemies, so it's natural to have multiple successors. Judging from your situation, I'm truly a prophet.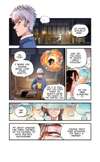 Page 2 Transcriptions
Really? Is that true? With you being such a liar, it's really hard to trust that you're reliable. It's rare for little gray to praise this Immortal sage from the bottom of his heart. Really? From the bottom of my heart? So, Master of Qianji Pavilion, You should know about the fact that I'll be turned into an augmented undead when I die, right? After all, even the Silk Road was designed by you.