Page 1 Transcriptions
Act 19: Battle in Sanchuan
Page 2 Transcriptions
It has It Begun. has Alright. Shrink's thoughts are coming to me. Begun.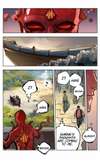 Page 3 Transcriptions
Let's take a look. Left eye. Swap... I can see. So he's gone for the direct approach. Understandable, the Laoshan brothers' magic-seeking mirror poses a hindrance after all. But... It'll be easier to achieve our objective if we can incapacitate them all in one go.