Page 1 Transcriptions
1906 A.D. Are you done eating?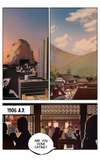 Page 2 Transcriptions
Let's be on our way and get back home as soon as possible. I'm going to take a good look at that stupid sage's scroll and journal on the way back. One sec. Another bowl please! ...... Maybe I should try keeping a journal too? Would that make it easier to understand the stupid sage's journal? What happened before, with the pill...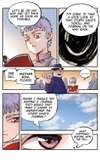 Page 3 Transcriptions
even though he wasn't to blame... 525 A.D. I'm still kinda pissed... The Third Court is still undergoing construction... Meanwhile...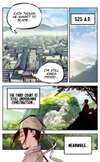 Page 4 Transcriptions
25 years ago 500 A.D. Help me! Help... It's not a buggy, but a bunch of stinky men! I hate stinky old men! Somebody save me! Mingzi Jiang (age unknown) Wahaha! Where do you think you're running, little lady?! Speaking of, isn't she a bit too fast?!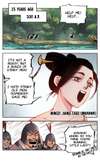 Page 5 Transcriptions
I never expected to find such a pretty little lady in this desolate land! Come on, help us relieve some of our stress! Ew, no, go away! Wahahaha! I'm even more excited now! This is the place that's been going around in the rumors lately! Nearby? Help! Save me! Several of our brothers- in-arms went missing just nearby! Wait, bro! ...... What ?!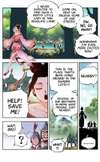 Page 6 Transcriptions
Argh, whatever, who cares! No matter what, I must have this woman today! Capture her and bring her back to the camp for some fun! Save me! I'm just a nice girl passing by! Is there anyone out there who can help me? ......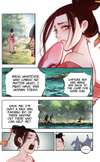 Page 7 Transcriptions
Have we arrived? Snap! Perfect. I was just getting tired of our game of chase.
Page 8 Transcriptions
Is there a concealment spell in place? Dis- perse!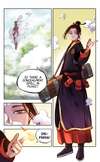 Page 9 Transcriptions
As I thought. Master! A high-level sorceror outside has broken through our concealment spell!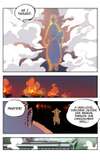 Page 10 Transcriptions
Wangchuan Hall One of the top 21 seeker schools of this era Hear me, all of you inside. I have come here today...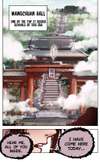 Page 11 Transcriptions
...to wipe Wangchuan Hall off the map.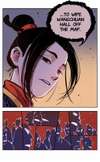 Page 12 Transcriptions
Master, that's... Mingzi Jiang...