Page 1 Transcriptions
Stealing time to let flowers bloom, flowers create the universe and nourish life. What a Great Penglai magic. HAH. Still remember that you said you're afraid to live, and you don't want to meet me face to face. UHM, What I said is all true. Only met once.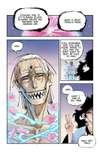 Page 2 Transcriptions
But you give me a sense of familiarity. You must have felt wrong. So? Could it be that because of a child who had nothing to do with your school, and you don't hesitate to have a fight with the strongest man of that times? Why did you suddenly attack that kid? Because he is the heir of an old friend? Or is there another reason?