Page 2 Transcriptions
It's cold, Really cold. Where am I? My memory is a little fuzzy... It's exactly the same as when I woke up from that dream... I'm back to that river again?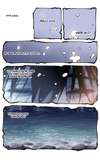 Page 3 Transcriptions
No, no... I didn't leave this river, I remember. When I dozed off, I had a long, long dream... I dreamt of being rescued and dragged to the shore by some strangers, Those people didn't hate my sickened body as much as my parents, They considered me as their important family member.