Page 1 Transcriptions
XIAO HAI , FASTER ! CAN THEY FLY ? THIS IS NOT EASY TO CATCH UP WITH THEM . ALEX CRANE 2 HAS DONE HIS BEST . THAT ROTTEN KID'S MAGIC IS A CHEAT .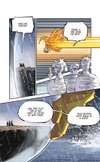 Page 2 Transcriptions
ONLY THE GREAT MAGIC - WIELDERS WHO HAD THE ABILITY TO CONTROL MAGIC TO THE LIMIT COULD REACH A LEVEL WHERE THE MAGIC ENERGY RECOVERY RATE IN FLIGHT WAS CLOSE TO THE BODY'S ENERGY EXPENDITURE RATE . FLY TO THE SKY , THROW THEM A LITTLE FURTHER ! NO MATTER WHAT THEY USE TO FLY , IT'S NOT SOMETHING THEY CAN AFFORD . I BET THEY CAN'T FLY WITHIN TE MILES . THEY WON'T LAST LONG WHEN FLYING AT THIS SPEED , WE'LL CATCH UP WITH THEM EVENTUALLY . SO WE MUST USE A LITTLE MORE FORCE , LET'S FLY UP !