Page 1 Transcriptions
Wait a moment. Sir, what kind of talismans and magical tools do you need? Weapon? My shop also sells the black blood of the "augmented undead". Give me that one, the steel one.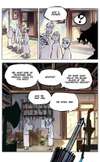 Page 2 Transcriptions
Excellent, Even if it isn't a magical tool, it makes Hai Shanliao at ease a lot. What's wrong? I wonder why don't ordinary people come into contact with these things? There are obviously many ordinary people on this street, but they seem to be not concerned about these things...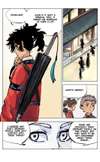 Page 3 Transcriptions
It seems that they have no interest or understanding of this seeker's world. It's really weird. ... noticed the red crystal in front of the gate? Have you