Page 1 Transcriptions
Chapter 56: Wanye The sect Author: Di Nian Miao Assistants: E Lie, Xiao Di, Sen Sen Editor: ANNA Platform Editor: Xiao Mi Publisher: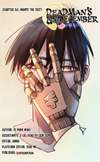 Page 2 Transcriptions
Eh? Come on, kid, calm down! It's insane to give up the opportunity to change a bad future when you clearly have the chance to do so. Are you crazy? You'll die if you do that! The punishment of the law of cause and effect must be super painful! Are you serious? ...