Page 1 Transcriptions
A FEW MINUTES AGO . HAVE YOU FINISHED WRITING YOUR WILL YET ? 50 , HAVE YOU FINISHED PREPARING THE RELIC YET ?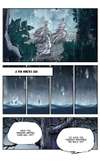 Page 3 Transcriptions
S HE LIVED IN THE MOUNTAINS WITH HIS PARENTS SINCE HE WAS A CHILD , HIS FAMILY SURVIVED MAINLY FROM HUNTING . AT THAT TIME , HE CHANGED HIS LAST NAME TO [ LU ] . WHEN HE WAS SEVEN YEARS OLD , HIS FATHER ACCIDENTALLY FELL OFF A CLIFF AND DIED . IN ORDER TO SURVIVE , HIS MOTHER TOOK HIM TO A BLACKSMITH IN THE NEXT VILLAGE THE NEXT YEAR , AND HE CHANGED HIS SURNAME TO [ WU ] AT THAT TIME .