Page 1 Transcriptions
Act 31: Mingzi in Sanchuan Author: Di Nian Miao Assistants: E Lie, Xiao Di, Sen Sen Editor: ANNA Platform Editor: Xiao Mi Publisher: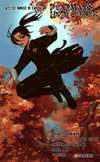 Page 2 Transcriptions
Is that even a question? Where did he go? And the cold expression on his face as he gazed in the direction of the Wu Mansion... The fact that we came to this town and crossed paths with him... Where else could he have gone? With Yan Zhao's strength... how long will master and the others be able to last? I have to get away from here as soon as I can and look for that stupid sage's talisman! Ugh,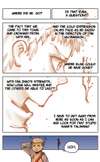 Page 3 Transcriptions
I think something's stuck in my teeth. Help me take a look. Yeah... A bit closer... Can you see it?