Page 1 Transcriptions
Don't stick your nose where it doesn't belong, or I'll deal with you too. Yeah! Butt out! Help me... Well duh, we don't hassle ordinary people. We have morals! Yeah, yeah! He's definitely not doing this because the school encourages seekers to fight and hone their powers! And harassing ordinary students is punishable! Go get a teacher! Go! Shut up! From memory, you're in Class 99. You're a seeker too. Um...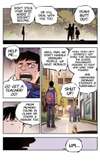 Page 2 Transcriptions
I remember your grades in Talismans and Magical Tools are much better than mine. ...don't deserve to be helped by others. and in terms of strength, you're pretty close to Wan Sun and Xiang Zhang over there, aren't you? If it were an ordinary person, I would consider lending a hand. But cowards...