Page 2 Transcriptions
4111 . IT'S SUCH A HEAVY PUNCH I SEE , FORTUNATELY , I DEFENDED WELL , OTHERWISE I WOULD HAVE BEEN SERIOUSLY INJURED OR EVEN DIED . NO WONDER THAT TENTACLE - LIKE THING ISN'T AS STRONG AS EXPECTED . HUMPH !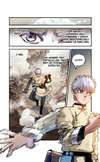 Page 3 Transcriptions
HOW ARE YOU ? DO YOU NEED ME TO HELP YOU SET UP A TOMBSTONE HERE ? CRACKLE CRACKLE CRACKLE THAT'S HIS HIGHWAY IT'S REALLY HARD TO DEAL WITH ! IF IT'S BROKEN , CAN IT RECOVER IMMEDIATELY ? IT'S LIKE TELEPORTATION .