Page 2 Transcriptions
Today, in the twenty-third year of Guangxu. The weather is a little stuffy and dry. Along the way, I saw earthworms coming out of the ground and insects flying low, is this a sign that it is going to rain? No wonder… My chest feels heavy... And with all the troubles that's going on right now, I even feel more irritated. If I had to write down what happened today, I would write it down in detail about how I feel at the moment. There will definitely be a line that says...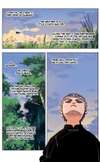 Page 3 Transcriptions
It's completely inexplicable! Who are you and what do you want to do? At least give us the reason why! Reason? Excuse me! It's an order from our boss, You and the tattooed one must be removed!