Page 1 Transcriptions
CHAPTER 81 : WANYE'S TWO THEORIES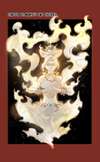 Page 2 Transcriptions
WHAT IS THE CORPSE LORD ? THE EXISTENCES RELATED TO WANYE ARE JUST A KIND OF NATURAL PHENOMENON IN THE WORLD OF MAGIC , JUST LIKE WHEN PEOPLE FACE NATURAL DISASTERS , AS LONG AS WE FOLLOW NATURE , IT WILL BE FINE . THIS INTERPRETATION HAS EXISTED SINCE ANCIENT TIMES . HEH HEH , I GUESS YOU DON'T WANT AN ANSWER LIKE THIS EITHER , DO YOU ? IN MY OPINION , THIS IS ALSO NOT TRUE .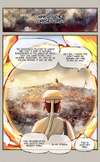 Page 3 Transcriptions
TO ME , THE CORPSE IS REALLY JUST A MONSTER THAT OUR EYES CAN SEE , AND OUR HANDS CAN TOUCH . O DEL TO THE LIVING IT CAN UNDOUBTEDLY BE REGARDED AS A KIND OF MALICE , S BUT FOR MOST SEEKERS , IT DOESN'T EXIST IN REALITY , WE HAVE NO WAY OF TOUCHING IT . THE TRUE BLOOD ARRIVAL IS ALSO A KIND OF RANDOM FATE . IT'S NATURAL DISASTERS . BUT THAT THING ALSO HAS ITS OWN WILL . AS FOR THE QUESTION OF WHAT THE CORPSE LORD IS , IN FACT , THERE HAS NEVER BEEN AN EXACT CONCLUSION SO FAR , THERE ARE TWO THEORIES MOST RECOGNIZED BY THE GREAT MAGIC - WIELDERS .