Page 1 Transcriptions
Act 5: Once in a Millennium Author: Di Nian Miao Assistants: E Lie, Xiao Di, Sen Sen Platform Editor: Xiao Mi Editor: Xiong Publisher: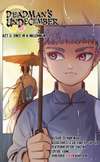 Page 2 Transcriptions
Take it.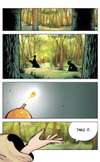 Page 3 Transcriptions
It's a pill of immortality. Woah! So this is the legendary pill of the gods?!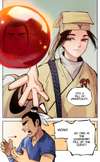 Page 4 Transcriptions
Ah, I suppose it is. It's really just a rare medicine that can prolong life. I'm too lazy to explain. In short, just grind it into a powder and mix it with water, then give a little to each patient. This will let them get better. The body parts that disappeared will slowly grow back too. Amazing! There is someone like you in this world with such radiance, both inside and out! Everything good in this world must be mere mimicry of your virtues! Wahoo! I'm so envious! Hn. Discovered that flattery works and milking it for all its worth. Knows it's flattery but enjoying it regardless. Alright!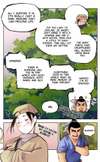 Page 5 Transcriptions
Then, this lowly commoner will take his leave! My family is waiting for me to work on the farm, haha! If that's the case, what are you doing right now? This is Chai. He came out with me to search for medicinal herbs. I want to give him a proper burial before I go back. He's using the herbs that he could sell for money to cover up the smell of the corpse... to prevent wolves from digging it up and eating it? What an unnecessarily kind man. But...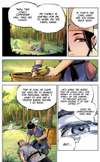 Page 6 Transcriptions
In this war-torn world, where people are cut down as easily as grass and morals have all but disappeared... can someone like you really survive? Aha. Is it ready? Oh? Is the sage talking to himself? What's going on over there? Undead...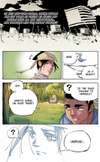 Page 7 Transcriptions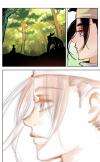 Page 8 Transcriptions
Phew, I'm done. Is he still here? Then, Sir Sage, I shall take my leave now! A thousand thanks again for your kindness! A moment, medicine- seller.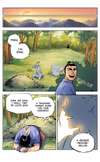 Page 9 Transcriptions
Wine. Do you like it? Eh? O-of course. Who doesn't like wine? Come, It's just that we don't even have enough grain to eat, let alone to make into wine... Da Bai.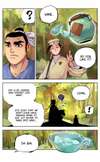 Page 10 Transcriptions
Our meeting here today was also a part of fate. With this cup of century- old wine, Allow me to see you off. 1906 A.D.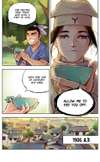 Page 11 Transcriptions
Xiaoxiao! Xiaoxiao, where did you go? Come play with us!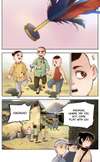 Page 12 Transcriptions
I told you guys not to look for me anymore... Don't blame big sis if your parents scold you, okay? Don't say big sis didn't warn you. Big sis--- Alright, alright! We got it! It's Big Sis Xiaoxiao, happy now? Mao, is your cold gone? Yeah! My mom said we won't get to see Big Sis ever again. I was so scared! The medicine Big Sis got for me worked like a charm! Because Big Sis... has always wanted to see the world beyond the mountains.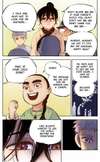 Page 13 Transcriptions
You're pretty well-liked, huh. You think so? But... Big Sis, come play with us! Come on! only among the children... Xiao- xiao...
Page 14 Transcriptions
You... why have you come back? Aunty, I... Help! Everyone! Xiaoxiao Bai came back! Xiaoxiao Bai came back!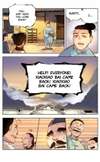 Page 15 Transcriptions
Rumble Rumble... You... Murmur You're... Village chief, I...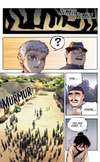 Page 16 Transcriptions
Slap! You selfish, cowardly girl! Yeah! None of the sacrifices came back alive after they went into the mountains. How dare you have the audacity to come back here?! Do you want the whole village to die for you? You vermin!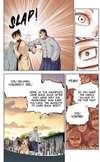 Page 17 Transcriptions
Grab! My master once told me, that only cowards bully the weak.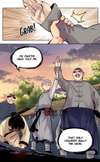 Page 18 Transcriptions
And cowards themselves have no right to be called "weak". Do you know what that means? It means I can bully you! Huh? You damn codger! Pow!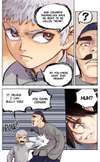 Page 19 Transcriptions
Village chief?! He hit the chief! That brat! Kill him! Wait! We're not here to fight you people! Stop! He's just a kid! Pow Hey! Pow Pow...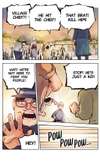 Page 20 Transcriptions
It'll be super embarrassing if you all lose to him!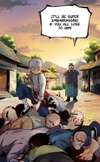 Page 21 Transcriptions
Who the hell are you?! Stop! Or we'll kill her right where she stands! You... scum!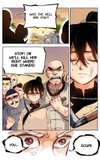 Page 22 Transcriptions
Boy, is what you said true?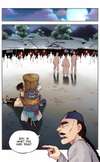 Page 23 Transcriptions
As long as we give you two up to Lord Undead, our Heishan Village will be unharmed? Yeah, but so what? The peace it'll give you will only be temporary. you should go out and find a strong seeker to exorcise it. If you want to get rid of the undead for good, Hmph!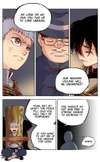 Page 24 Transcriptions
There were other seekers who came to the village before, wanting to "help" us. But they all died horrible deaths. This is Lord Undead's power... how could any human hope to match him? What's more, Lord Undead is a staunch advocate of loyalty and justice. He blesses us with his protection, as long as the nearby villages offer sacrifices to him on a regular basis. Even the bandits who come by occasionally are disposed of.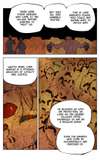 Page 25 Transcriptions
If our Heishan Village loses the trust of Lord Undead because of you two, then we have no hope of surviving in this troubled world, even if Lord Undead does not wipe us out himself! Do you now know the weight of your sins? Why, you-- Oh? What's going on over there? Aha. Is it ready?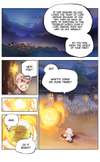 Page 26 Transcriptions
Undead...