Page 1 Transcriptions
A FEW MINUTES AGO ... THEY ARE INDEED HEADING THIS WAY . SEEING IN LOW LIGHT IS REALLY UNCOMFORTABLE FOR THE EYES . HAI SHANLIAO WANTS TO USE MAGIC TO SHAKE HIS HEAD LEFT AND RIGHT TO OBSERVE IT . TO US , THEY SEEM TO HAVE NEVER EXISTED . THE GOLD LINES DISAPPEARED . HUSH , KEEP YOUR VOICE LOW !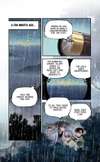 Page 2 Transcriptions
LET'S GET STARTED , TAKE IT OUT . SHALL WE BURY TWO TALISMANS HERE ? OK . IF THERE IS MORE , IT WILL NOT BE ABLE TO OPERATE FINELY . THIS IS THE REMAINS OF THE PREVIOUS NOODLE UNDEAD GUY . Nas ERASE ALL TRACES , OK .