Page 1 Transcriptions
as taken away by the talisman ... If father know about it... This magical tools was lost... It's over.... Was locked up in the practice room? Forced to marry? Wouldn't it be spanked? Then it is better not to live anymore!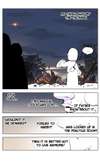 Page 2 Transcriptions
Transform again... This is a magic with great loss in any way. ... He has no intention to care for him, and the influence of the black blood magic will be weak! If you want to live, go with the Bobble-head!