Page 2 Transcriptions
Since ancient times, strange stories have been circulating. Listen well, for it is said that there was once a seeker who possessed the innate ability "Resurrection of Blood". This power blurred the line between the mortal and undead realms, and no creature, living or dead, could resist it. In his later years, he established a school to study and teach others how to use this power. After three generations, this school had grown to become one of the top schools, and ranked among the 21 strongest schools of the time. Unfortunately, the ninth generation master's incompetence led to the school's destruction.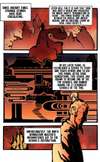 Page 3 Transcriptions
That school... And I'm the only remaining disciple of the school. was Wangchuan Hall. My only hope is to find a successor to whom I can pass on the legacy of Wangchuan Hall. Um... could you at least respond or react or something, kid? Ah, As I thought, there aren't many people left who remember Wangchuan Hall. ...... ...... ......