Page 1 Transcriptions
Chapter 43: Trifling matter Big event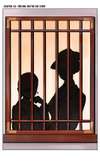 Page 2 Transcriptions
It really made my horizons widen a lot. It's beautiful! It must be made by the maker according to the appearance of his sweetheart! Uhm, the image of this fairy is awe-inspiring. I'm sure that she must have been a Saint in the past who saved the people from being In dire straits! Wow, you're really a master! ... Note: You guys are just talking nonsense.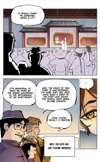 Page 3 Transcriptions
Is that the symbol of the School of Sanzhen? What if it is? From your reaction, it seems that you know this person? I had seen a piece of ancient painting before, which seems to bear some resemblance to this man. Don't lie to me, I'll undoubtedly believe it. Really, How come are there traces of him everywhere? If I tell master and the others the true identity of this illusion, will they be so surprised that they would vomit blood...?