Page 1 Transcriptions
The Corpse... Lord's... brain? Rea... Really? Unbelievable! It's not like we're familiar with each other, why would I tease you? You can think of it as...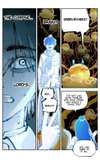 Page 2 Transcriptions
a dream! This place is the King of the Undead's dreamscape! Those are my master's words. Wait! Who am I - little Shizi talking to? That man is the Corpse Lord? No, just something related to it.