Page 1 Transcriptions
A key to the mystery is ... ... alpha electro magnetic waves in the brain ! A lifelike illusion ?! But , some types of electromagnetic waves can affect and block acetylcholine , and the brain is.left . unable to transfer the correctus C'information The brain activity occurs when neurotransmitters , such as acetylcholine , stransfer the information by vibrations within na specified frequency . ... I've heard the haunted places usually have some sort of magnetic anomaly .. Because of this , humans may havés seen illusions that feel just Nike real life ! Air Gear ... alpha electromagnetic waves in the brain . That's right . Therefore , the real identity of a ghost is ... !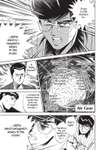 Page 2 Transcriptions
ITER LAIRGEAR Trick : 84 It sounds like this is how it works , yo ! On no , they figured out the trick already ? Hey , wait a second ! What ? That's no fun ! SMACK ! Nos And all leads us to tra da ( musss ) No way ! Sorry , Mr. Ishigaki . po PE And I was fine too while I was working on my computer ... I think the stronger electromagnetic Field can cancel the effect of alpha electromagnetic waves ! I noticed when I recalled senior Kazu keeping his cell phone as a ward against ghosts ! Shinoppu ... I never knew you le were that 0 Amaz ing ... ! smart ...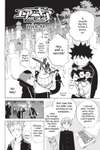 Page 3 Transcriptions
However , the latest study shows this is neither an allegory nora comedy it is reality Once people know what it really is there is nothing to be afraid of It is an allegorized comedy of how people can see the scariest things by fearing their selves over and overo : Those who have I seen old silver grass have seenia true ghost.com 少女 ? & 12 12 浸信 女 MER IN A 4 But normally people can recognize the difference between eight and three at aglance , even though they look similar . First , the subjects were handed some trícky cards such as these . This is based on an experiment conducted in a famous haunted place After that experiment àremarkable magnetic anomaly was detectedrat that place ! 888888 However , seventy Percent of the subjects couldn't recognize threes , and they thought all the cards were eights .