Page 1 Transcriptions
SWOOSH 00Say I am the master of time , Yasuyoshi Sano . The one bound by a promise with the Migratory Bird to protect Kogarasumaru . SWOOSH FSWOOSH ІІІ he Hah KSHHHOOP And Now , I will fulfill that duty ! Bow Roller Air Treck The Air Treck that is constructed with an activator rolling 360 degrees . This style is called Bow Roller Style as compared to the normal Wheel Style . Its unique style , design , and extreme flexibility are its great appeal to riders . However , conversely , Bow Roller equipment costs more and is more difficult to master than wheel equipment . It also lacks speed and jumping ability , so it is said to be a niche model only for advanced riders .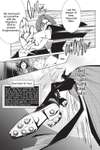 Page 2 Transcriptions
KO 03 GT LANG ami . rom . HP LG A GSHHH You must be Simca's dog . Trick : 114 -2x

Page 3 Transcriptions
One question ... if I may ask ... You , on behalf of your own Keepers of Regalía , are here with the illicit purpose of ... obliterating anyone with the potential of becoming a keeper ... ... Ami correct on this ? BEEP BE SOM 170 w and the As you can possibility of him clearly see , the ever becoming boy over there is as durable as a keeper is as delicately thin a cloud , as he is . is not a keeper , has no regalía ... ) His name is Kazuma Mikura . I'll take your silence 10 . Wh- ? I'm not sure ... but I think he's bashing my Kazu - sama ? TWEAK as a " yes " and ask one more thing ...