Page 1 Transcriptions
STAGE 106 : SLEEP WITH ME I KNEW ALL MEN WERE BEASTS ! IT WAS STUPID OF ME TO START THINKING ANY BETTER OF HIM !! GASP ?! DON'T TELL ME HE'S GOING TO TAKE ADVANTAGE OF THE TIME FREEZE TO DO SOMETHING DIRTY ! TIE HE'S GOING TO GROPE HER , ISN'T HE ?! HE'S GOING TO FONDLE HER BREASTS ! XGRRR I KNEW HE LIKED THEM BIG ! THAT ... THAT JERK . WHAT IS HE DOING TO HER , WHEN SHE'S FROZEN LIKE THAT ? WHAT IS HE DOING WITH THAT HAND ?! THE PERVERT ! AH !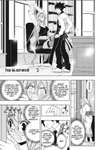 Page 2 Transcriptions
WHAT SERIOUSLY THAT'S INDECENT . HUH ... ? WHAT HAPPENED ? JUST YOU WAIT . THIS ISN'T ENOUGH TO STOP ME . I WILL CATCH UP TO YOU . YOU CAN COUNT ON IT . NOW I'M EVEN MORE ANNOYED THAN IF HE HAD GROPED HER .