Page 1 Transcriptions
SI I DON'T SUPPOSE YOU WOULD LET ME SEE IT , TOTA KONOE KUN ? NEGI KUN'S ... I MEAN , YOUR GRAND FATHER'S SIGNA TURE . FATE YOU'RE HMPH FATE TH J ... AVER RUN CUS STAGE 65. NEGI SPRINGFIELD ,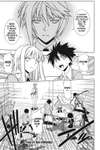 Page 2 Transcriptions
WHA ARE 2014 w I ht YOU GOT YOU A LOT OF NERVE WANNA SHOWING PIECE YOUR OF ME , FACE ON PUNK EARTH ! ? ! WHAT IS YOUR DEAL ? ! I AM BUT IF YOU INSIST , I WOULDN'T BE OPPOSED TO HAVING IT OUT WITH YOU . I HAVE NO INTENTION MERELY IN OF FIGHTING YOU TODAY , TERESTED IN THIS TOTA ALLEGED KONOE SIGNATURE KUN . OF YOUR GRAND FATHER'S .