Page 1 Transcriptions
1 GOON STAGE 164 : ASSEMBLE ! M 며 M Pooth E }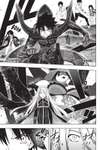 Page 2 Transcriptions
mu YOURS I WON'T LET YOU AWAY WITH IT : MEAT HEAD ! AND THEN WHAT BONEHEAD WHO ALL THOSE BIG SHOTS ON MUNDO KADIN SEMPAIA NUATEVER YOU FELT LIKE , AND THE EART IN THE WHAT ? BUT SHE'S MASTER HEH 1000 Firma ER . POSSIBLE MAN HE HAS MASTER 畜 季 WHAAA MASTER ON HIS ?? DAM ? !

Page 3 Transcriptions
WHAT HAP PENED ... TO NIKITIS ? I JUST GOT BACK FROM BLOWING HIS HEAD OFF ! HUH ? BUT I'M SURE HE'LL BE BACK IN ACTION PRETTY SOON ANYWAY . AH ? I SEE . 000 $ I FEEL ... LIKE HIM ... Doo ... THE SAME WAY HE DOES .