Page 1 Transcriptions
UQ HOLDER ! RRRAA AHHH ! HERE WE COME !! T GRR ! A KID WITH AN EYEPATCH AND A GUY WITH A VO LUMINOUS AFRO ... I'VE HEARD OF THEM ! THEY'RE THE ONES THAT VE BEEN SPENDING THE LAST FEW DAYS HUNTING DOWN EVERY RANK C TEAM IN THE PRELIMINAR IES !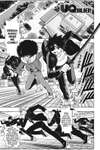 Page 3 Transcriptions
WILL DO , LEADER ! WE OUTNUMBER THEM TWO TO ONE , AND THEY CAME RIGHT THROUGH OUR FRONT DOOR ! IF WE RUN NOW , WE'LL BE DRAGGING OUR TEAM'S NAME THROUGH THE FIGHT MUD ! BACK !! ROGER THAT OH , , I LIKE IT ! YES , SIR BA - DA BAAAM STEAM TAKAHATA THUDOSON US Pie TEAM UQ AFRO WHACK TEAM TAKARATA RIBOSOM WHOA , AWESOME . A HUNDRED THOUSAND PEOPLE ALL OVER THE COUNTRY ARE WATCHING NII CHAN FIGHT . THEY'RE GETTING A LOT OF ATTENTION . AND HMM . YOU'RE NOT GOING TO FIGHT , SANTA ? WELL , SOME OF THE PEOPLE WHO WERE MAJOR FANA OF THIS TOURNAMENT WOULD HAVE COME TO WATCH , AND NOW I GUESS EVERYONE'S STARTING TO HEAR ABOUT IT . WHA ? A HUNDRED THOUSAND PEOPLE ARE WATCHING THIS RIDICU LOUSNESS LIVE ? UH HUH . IF I ENTERED I'D BEAT ' EM ALL WITHOUT EVEN TOUCHING " EM . WHAT KIND OF REACTION IS THAT ?