Page 1 Transcriptions
WHY WON'T HE SAY ANY THING YO WE'RE FRIENDS AREN'T WE ? AMIGOS BUDDIES PALS . STAGE 48 : PLEASANT MEMORIES SAY JUST BRING US THE MONEY ALREADY SOME THING ! HE HELP ... YOU'RE CREEP ING US OUT ! IUZA NGH ! MM ... GH ... ? JHELP ME ...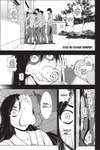 Page 2 Transcriptions
ZING ht Tm WHAT THE HELL ? DS N HNGH FIRST HE TAKES MY BED BY FORCE THEN HE SLEEPS ON IT WITH THAT STUPID LOOK ON HIS FACE LIKE HE OWNS IT ... DAMMIT ... I DON'T KNOW HOW THEY ENDED UP IN MY ROOM . BUT THERE'S NO REASON FOR ME TO GO OUT OF MY WAY TO LET THEM KNOW I'M THE ONE THEY'RE AFTER . STUPID IDIOT . NO , WAIT ... I FORGOT , THESE GUYS ARE BOTH IMMORTAL LIKE ME MAYBE I'LL BURY HIM IN THE FLOOR AGAIN AND LEAVE HIM TO DIE .